Tuesday, June 14, 2011 at 1:43PM
Sarah Scoles / Brooke Napier
|
5 Comments
| |
Email Article
Your wonderful blog hostesses have been kind enough to let me use up some of their space to talk a little bit more about the state of science education. I just finished my PhD in Astronomy at Cornell, and now I'm heading to NASA's Langley Research Center to start a postdoctoral position on a climate change education project. I love science, especially astronomy, but I also love getting people excited about the amazing world of knowledge and discovery that's out there, and interacting with people to make their days and lives better. I also have an undergraduate degree in English, so I'm really into reading and writing, the word "thrice," and semicolons.

The great thing about working on a science education project is that you get to do all of those things, but you also get to use the scientific, analytical part of your mind when you start asking, "Is this project working? What are we actually accomplishing so far? How can we make it better? "
When we look at science education as a whole, the answers might be something like, "Doesn't seem to be," "We're not sure," and, fortunately, "
oh, plenty."
Recently, Sarah posted about
using reading and math instruction time to bring more science into the classroom
. Today, I'm going to look a little more generally at what we know about people's brains and what turns them on (and off) in science class.
SECTION: LECTURE DOESN'T WORK
As Sarah pointed out, not everyone grows up to be a scientist
, but generally, the people who do have had success in the typical science classroom. They're good at silently listening to lectures, taking notes, and absorbing information that way, and they're good at doing work in the lab that leads to the `right' conclusion, even when the lab equipment is 100 years old and nothing works properly. Which is weird, because those aren't exactly the most important skills when it comes to doing real science, which involves a lot of creativity, a lot of stumbling and failing, and a lot of communicating and collaborating.
This is also weird because human beings aren't very good at this passive style of learning. Instead, students actually learn by actively engaging with the material that they are supposed to be learning. In this case, 'engaging' basically means that students have their minds turned on and the wheels are turning.
More below the cut...
Some work conducted by
Richard Hake of Indiana University
showed that thousands of students in high school and college learned physics better when they participated in "hands-on" and "heads-on" classroom activities. These days, we feel pretty confident saying that lecture doesn't work. Instead of thinking of students as passive sponges, ready to absorb a list of science "facts," things work better when we think of students as being active participants in the learning process, building their own concepts of the world around them and of science. This approach is called "constructivism," but
that's a whole other ball of wax
.
Scarily, this probably applies even to the kids who seem to be thriving in the note-taking, lecture-listening scenario.
Eric Mazur of Harvard University
is famous for his work with peer instruction, and back when he was using more traditional lectures, he found something pretty chilling when he assigned "paired problems" to his physics and engineering students. The first question asked students to do a basic calculation, the kind of task engineering and science students are
usually
asked to perform on their tests and in their labs.
The paired problem would ask students to be more descriptive of the concepts, applications, and consequences of the same physical situation. Unfortunately, students can be really great at answering the first type of question without being able to demonstrate sufficient understanding of what's actually going on in the second question. In other words, the science education system is probably failing even the students it seems to be working for. Try not to think about this the next time you're driving over a shaky bridge – I'm sure that civil engineer was totally trained in a constructivist university.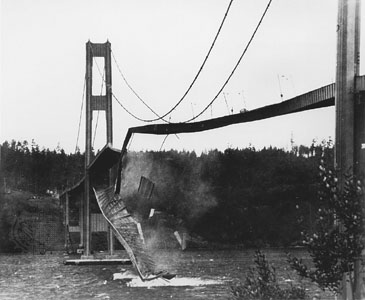 Constructing your own knowledge really helps you not construct a bridge that does this. Source.
References
Richard R. Hake (2001). Lessons From the Physics-Education Reform Effort

Conservation Ecology

arXiv: physics/0106087v2
E. Mazur, Peer Instruction: A User's Manual, Prentice Hall, Upper Saddle River, NJ (1997).
SECTION: INTERACTIVE LEARNING WORKS BETTER, AND PEER INSTRUCTION CAN CHANGE THE WORLD
What does "hands-on" and "heads-on" actually mean in a real classroom? In the ideal situation, every student would have their very own model Universe to explore, and unlimited time to play and interact. If you've been in a classroom lately, you just may have noticed this is not the reality.
For one thing, now that we have discovered fire, the germ theory of disease, and quantum mechanics, the world of science is a lot tougher for the non-expert observer, so I think students really do need the guidance of teachers and, of course, are going to need
some
lecturing. If you wait around for everyone to independently discover that the Universe is expanding, the infinite monkeys and their infinite typewriters will have already produced the full works of Shakespeare.
After Project Shakespeare, Professor Chimp moved on to science education research. Source.
But another important aspect is this thing called "reality," which has to do with time constraints, budget constraints, and space constraints.
Instead of the ideal, we have 200 students packed into a lecture hall for 50 minutes 3 times a week. That might not seem conducive to anything
but
the traditional lecture we're all used to. As it turns out, even in this restricted setting there is lots you can do to bring more interaction into play. Since I have an astronomy background, I have a lot of experience with the great materials being put out by the
Center for Astronomy Education (CAE)
and by the
Center for Astronomy and Physics Education Research (CAPER).
These organizations do a world of good by conducting research projects that help our community understand what does and doesn't work in the classroom, and then by producing classroom materials and running training for teachers based on the research results.
While interactive learning in a classroom can involve students talking to their teachers, and interacting with innovative teaching materials, things get really fun when students start teaching each other. We call this "peer instruction," and lots of interactive learning activities are also peer instruction activities.
Instead of just giving a lecture and hoping students pick up on the subtle scientific concepts, an instructor who wants to bring more interactive learning into their classroom could try things like "think-pair-share" activities, ranking tasks, and lecture tutorials. Think-pair-share wakes students up from their listen-and-take-notes stupor, by asking them a question about some tricky aspect of new material. They're given some time to think and develop their own answer, and then are paired off with a nearby neighbor to discuss their answer. Finally, the answer is shared with the whole class. By discussing and trying to convince their partner of the right answer, students get to confront their misconceptions and have to take time to think about what they are learning, which solidifies their understanding.
Lecture tutorials are, in my opinion, another really cool way to do this, and research has shown that they're very effective. These handouts are designed to supplement the traditional lecture format, by getting students to think about all the different concepts and bits and pieces that they need to put together to fully understand some new ideas. They are used after students have listened to a lecture that provides basic, fundamental background information and some practice at thinking about the abstractions critical to the particular concept explored in the lesson.
A lecture tutorial will be made up of a set of questions relating to the topic. Each question, in sequence, requires the student to take only a small step, bringing in a single new idea or concept at a time. For example,
a sample lecture tutorial gets students thinking about stars
by first thinking about burners on a stove. The burners can be hotter or colder, and large or small – just like stars – and students are asked to think about which burners will cook a pot of spaghetti more quickly. Is a hot but tiny burner better than a cool but large one? By taking short, logical steps like that, students eventually understand the relationship between the energy given off by a star, its size, and its temperature. Lecture tutorials also often include sample "student debates," to catch those really common mistakes and misunderstandings.
SECTION: TO MAKE A LONG STORY SHORT . . .
It's a lot easier to change a misconception when you think your way out of it, rather than when someone just tells you it's wrong.
Simple, no? And also applicable to bad boyfriends/girlfriends. I think this is the basic reason why interactive learning works so well, though I am sure there are cognitive scientists who would disagree with me. There's a lot more research to be done, to help us understand how our minds turn our educational experiences into "knowledge" (whether right or wrong). How can I tell we're on the right track? We're thinking about this problem like scientists and are, finally, after hundreds of years of formal education, looking for evidence that what we do is working. Duh.