Tuesday, October 18, 2011 at 4:48PM
Sarah Scoles / Brooke Napier
|
2 Comments
| |
Email Article
"Stripes," loosely interpreted.
Credit: NASA/JPL/STScI.
I've written before about Saturn's moon Iapetus and the
solved mystery of its stripes
. Now, astronomers have set out to explain a few of its other puzzlers.
What else is weird about Iapetus?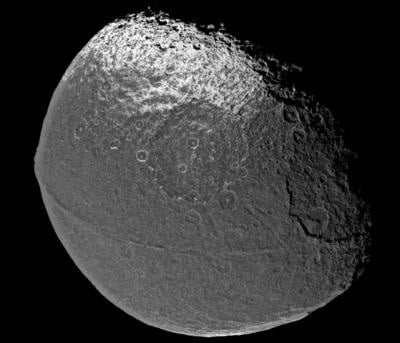 Some people call it a "walnut."
I don't know.
I still call it a moon.
Credit: NASA/JPL/STScI
It has an equatorial ridge system, or a mountainous belt around its middle. This belt, in places, rises over 42,000 feet above not-sea level.Why does it have this ridge?
The shape of the moon is slightly flattened, as if someone squeezed it between gigantic fingers. This quality is also known as "being oblate," if you want to be fancy. This shape suggests that Iapetus once rotated quickly (about every 16 hours), but now it only rotates every 79. Astronomers call this de-spinning. But the question is, How did it become so slow?
Most explanations ascribe these characteristics to endogenic processes--ones that occurred below the planet's surface. However, another, exogenous idea is that Iapetus, like its parent planet, once had a ring system, and that that ring system sprinkled down to the surface and formed the ridge.
A new idea presented by Levinson, et al., says that if the ring system existed, a moon-of-the-moon could have accreted from the ring particles.
A story
Early on in Iapetus's life, it, like many people, had a formative traumatic experience: an impact. This impact spun the planet up, deforming it, and shot debris out into orbit around the moon. The debris was flattened into a disk.
Part of this disk was outside the Roche limit, which is the distance from the planet within which tidal forces will rip apart an object (of a given mass) that is held together by its own gravity. Inside this limit, a moonlet could not form because the planet would have destroyed it, like a mother hamster eating her young. The material inside the Roche limit remained particulate.
Outside the limit, however, a moonlet could form and sweep around the planet, gathering material.
And it did.
Interactions between this moonlet and Iapetus were strained, and the moonlet pushed the particulate disk onto the planet. The particles did not have enough velocity to make craters; instead, they just piled up into 42,000-foot mountains.
The moonlet's orbit began to get farther and farther away from Iapetus, and Iapetus' spin slowed. High on its independence, however, the moonlet did not realize that Saturn would snap it away from Iapetus if it weren't close enough. Gravity is, as they say, a harsh mistress.
The moonlet was snatched by Saturn's gravitational force and either "ejected to heliocentric orbit" (aka, hell) or sent on a path that crashed it into one of Saturn's moons, perhaps Iapetus. Talk about full circle.
After it was alone, Iapetus felt the influence of its own parental figure (Saturn) and slowed its roll even further, till it came to its current rate of rotation.
Or at least that's the idea. For more information and details on the model, check out the paper below.
References

H. F. Levison, K. J. Walsh, A. C. Barr, & L. Dones (2011). Ridge Formation and De-Spinning of Iapetus via an Impact-Generated Satellite

Lunar and Planetary Science Conference